Everything Murad Merali says in his video addressing his past and his OnlyFans content
TW: Discussions of rape and sexual assault from a young age
Podcast host and YouTuber Murad Merali, who is known for his daily and consistent Love Island content, has seen allegations and old videos surface that appear to show him engaging in foot fetish content centred and "raceplay" – a fetish focused on two people conseting to use racial slurs and detrogatory comments during sex. Following these allegations coming to light, Murad has posted a YouTube video where he addresses them and also his past.
Here's everything Murad Merali says in his video addressing the allegations
Murad Merali opens up his YouTube video with a trigger warning stating the content he covers is extremely emotional and is very heavy. He says: "I don't know how I'm going to begin this video but everything needs to be addressed with immediate affect.
"First and foremost the written content is not me, the severely derogatory comments are not written by me and I will stand by that – this is not who I am. Some of this content is also not me and I can profusely apologise, I take full accountability for how this has come across and how everybody has felt from this content. Some of this content is me, not now, not recently, in the last five to six years, not any moment now."
Murad continues to say he doesn't know how he is going to make this video. He says: "I don't know how I'm going to say all of this but I'm just going to speak from the heart and speak it on camera and just talk. These screenshots associated with these pictures, this vile racist verbiage that has been used is not written by me. This is not done by me in any capacity and this needs to be made abundantly clear with full force immediately. All of this needs to be addressed. I did not write this stuff. People make their own captions, they mix it with their own pictures for their own satisfaction, their own desires, with their own fantasies, their own ideations – whatever they have. They then put it together for their own mental satisfaction for whatever desire that they have as a person."
He then goes on to address his past, saying no one knows anything about him due to his account being based on reviewing content. Murad says: "In order to actually discuss this properly and coherently for everybody because that is what everybody deserves – a proper explanation and timeline of everything."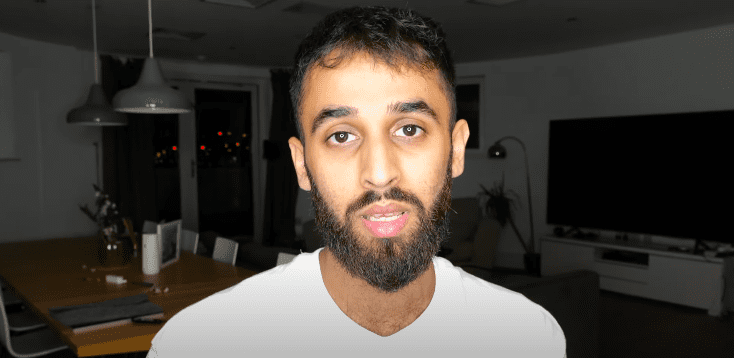 Murad says some of the next information he is going to reveal he doesn't want to reveal but he says he's "had no choice". Murad says when he was 14-years-old he was "severely raped". He talks about also have feet put into his mouth when he was 14 and he can never get it out of his head, as a result he says it's "fucked" him up.
He says: "Relentlessly, every other night. I couldn't escape it. It happened all the fucking time. I couldn't escape it but no one knew. Nobody knew. And I said to myself I need to do whatever the fuck I need to do to get out of this place or it's going to happen again to me. So I did just that. I developed these fetishes, this foot festish, I developed it through what happened to me. I needed to make money, that was my only goal to make money. It was all about money, money, money, money because money is what I needed to get out of a place that I was being brutally fucking raped in. This is the truth. This is who I am. This is who Murad Merali is and I'm saying it to you now and I'm going to be transparent about every fucking little thing because this is who I am. This is why everyone says to me 'Murad why are you so daily and consistent?', I'm not daily and consistent because of I'm putting videos up, I'm daily and consistent because I know I need to make that money and if I don't make that money I'm going back to a place where I was raped every other day.
"Why is somebody doing this? Why does somebody act like this? This behaviour that is being witnessed currently is not normal behaviour. We can all agree," he says. Murad continues to say he did his degree to help him get his thoughts out of his mind but it never worked. He says: "This is what happened to me and this is what developed. And so I did it to get it, I would do anything to get out."
Murad explains: "The same thing happened again, yet again in the mosque. I know this is a lot of information but I need to be transparent and there needs to be transparency from me. That is what everybody deserves. I can't get it out of my head. I was a kid, man. Why the fuck are you touching me like that? Why are you touching me like that? It never fucking stopped."
He says: "I am praying to Allah that my life is taken, okay? I pray tonight I am gone. I genuinely pray from my heart of hearts that my life is taken. I can't do this anymore and I know no body even knows this fucking shit, it's all daily and consistent pretty pretty shit. I tried everything in my power to get out. I needed this to be addressed immediately and I needed to inform you of all the fuckery I went through because that is a huge part of what happened."
He ends his video saying: "I appreciate everybody who's watched this very serious video because the content is very heavy. Just to reiterate the very racist captions were not written by me. I did not sit there and do that at all."
You can watch the full video here.
(thetab.com)
Follow us on:
YOUTUBE  FACEBOOK   TELEGRAM    GOOGLE NEWS  TWITTER  INSTAGRAM   PINTEREST 
Subscribe and Follow us via Email
If you have any comment regarding this article contact us at contact@ethiopianstoday.com